I have a lot of work to do on my shot, and especially after the giant posts I made yesterday, I'll try to keep this one a bit more brief and a bit more lighthearted.
What I want to talk about first is animation and, in my mind, what the philosophy behind it is.
I mentioned in my last post that animation is caricatured motion, and I'd like to delve into that a little bit. The goal of animation is not to show reality, but to distill reality and find what makes something appealing. You hear a lot about how "realistic" good animation is. And it is in some cases (such as when it has to integrate with live action). But in most cases you think of when you think of animation, it is hardly realistic. However, it is
believable
.
Let's take a look at this scene from
The Incredibles
Now, first of all, the character designs are extremely caricatured. Nobody
really
looks like Huph, Bob's boss. And Bob's proportions are completely unrealistic. What's more, especially the business after 2:30, the animation is not "realistic." But it is
believable
and that is the word of the day. It's not about realism. It's about what FEELS real. It's about the essence of an action. Caricature, in my mind, is stripping something down to its bare bones, exaggerating that, and then carefully building on top of that. It's about getting rid of what's unnecessary and leaving only what tells a story.
And just when I thought I wouldn't rant for this post, I'm brought to a topic which almost requires it: mocap.
If you've ever seen, say, in behind-the-scenes features for video games, and there's a guy wearing a suit covered in silver balls, running and jumping around, that's mocap. It's taking someone's movements and directly copying them into a 3D rig. In 2D animation, there's a word, rotoscoping, which refers to literally tracing frames of film to produce an animation. Mocap would be the CG version of rotoscoping. And, boy, is it bad.
Now, a quick disclaimer. I think mocap works in very rare cases. In games, when you're going for ultra-realistic animation, it tends to be faster to use mocap. And in
Avatar
, the technical advancements in mocap and need to integrate CG characters with live action actually made mocap work very well. However, not before being touched by an animator. More on that later.
But think back to 2001's
Final Fantasy: The Spirits Within
. Ignore how bad of a movie it was for a second and try to remember how it looked. Here's the trailer.
Pay particular attention to the human characters. At first glance, they look pretty realistic, right? But look closer and doesn't something seem a little... off? You can't quite put your finger on it but doesn't something about it kind of make it hard to look at for some reason? Welcome to the
uncanny valley
.
The "uncanny valley" is a term coined back in 1970 to refer to a phenomenon in the field of robotics. The hypothesis is that, as a robot's appearance approaches a human's likeness, you feel more empathy for it. But, if you keep approaching human likeness, it starts to feel creepy and then downright scary. If you get even CLOSER to human likeness, suddenly it feels like a real human. The "valley" is the dip on this graph.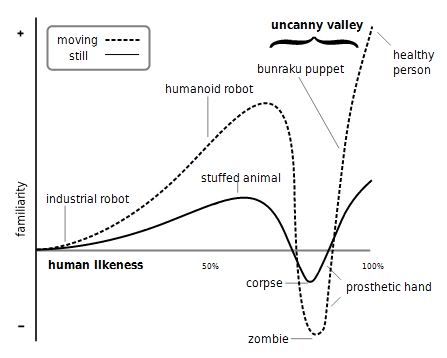 Now, I won't go into WHY the uncanny valley exists, because no one is really sure. It's almost definitely evolutionary and probably has to do with naturally feeling uneasy about people who look sick. But what's important here is that the uncanny valley definitely exists in some form or another. Here's a video from Popular Science demonstrating the phenomenon:
The thing is that humans are practically designed to recognize other humans. And if we see a human who doesn't QUITE look human, it makes us uncomfortable. And here's where mocap comes in.
Robert Zemeckis, probably most famous for directing the
Back to the Future
trilogy and
Who Framed Roger Rabbit
, decided to start making CG films starting with
The Polar Express
in 2004. He followed that up with
Beowulf
in 2007 and
A Christmas Carol
in 2009. And now he's producing
Mars Needs Moms
. Here's the trailer:
Eeeeeuuughhhhh, right? Ignore the subject matter for a second and focus on how it looks. Like the
Final Fantasy
trailer, isn't something about it just... wrong?
If you didn't guess it by now, Robert Zemeckis has a sudden hard-on for mocap and nobody can explain why. First off, if you want to make a photorealistic movie, why do it in CG? Second of all, if you want to do animation, why not
do animation
?
Mocap is not animation
If mocap is animation, then a Photoshop filter applied to a photograph is a drawing.
I'm sure I'll make another post about mocap in the near future, so I don't want to go into this too much. Suffice it to say that something about mocap makes it look vaguely weird, right?
This is where animators come in. See, if you take raw mocap data and apply it to a character rig, it just looks even worse. So, you need to have an animator come in and "fix" it. And almost always it's a thankless task and ends up being busy work. There are certainly rare cases, like
Avatar
, where the animators and the mocap worked together in a very successful way, but they are few and far between.
But the point is simple: if either your mocap data is not spot-on perfect, or if your characters do not look absolutely photorealistic, you will fall into the uncanny valley. Which begs the question, why use mocap?
The answer is... ¯\(°_o)/¯
Ok, ok. Mocap is quick and dirty, and it's useful in games when you need realistic character movement but don't have the time to invest in hand-animation. I get that. But for anything else, if you have the choice between an animator and using mocap, why choose mocap? But that's another post for another day. This post is about the caricature of motion and avoiding the uncanny valley.
Let's go back to
The Incredibles
. Suddenly, these characters who don't move like you're used to seeing and don't look at all like real humans actually feel infinitely more real than all of Zemeckis' CG characters combined. How do movies like
The Incredibles
avoid the uncanny valley so well?
Because they know it exists and they purposefully pull back from it.
And this is where we come full circle when it comes to caricature. The reason we caricature is because
caricature is more appealing than real life
. I like to think about Al Hirschfeld who was a true master of caricature. What is mind-blowing and is the key to all of this is that his drawings often look more like the people they represent than photographs of the person they represent. Let this sink in.
This looks more like Sammy Davis Jr...
Than this does
And it's because caricature is about exaggerating the things you recognize about something. Al's drawing is more like how you'd remember Sammy Davis Jr., rather than what he techincally looks like.
This is the art of caricature and why it's appealing. And when it's applied to motion, we call it
animation
.